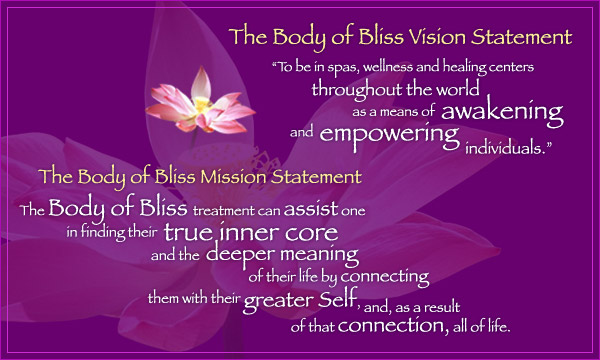 With the desire to become a Body of Bliss practitioner one accepts a sacred vocation, for the Body of Bliss treatment serves as a conduit to the Divine. It induces a shift or opening in the consciousness of the recipient (and the practitioner, as well) allowing the individual to get a glimpse of the wisdom, depth, beauty and creativity that dwells within them, simply awaiting their recognition and attention.
During the treatment, the body becomes so deeply relaxed that the client and practitioner can connect soul to soul, allowing for a deep and profound healing to occur. The practitioner is simply creating and holding a sacred space for the individual to spend some quality time with their True Self, without the normal mental chatter that is part and parcel of daily existence. A time-out from the dance of projected images of who we really are 'not'. And although no treatment alone can replace daily meditation or deep spiritual inquiry, the Body of Bliss treatment can speed up an evolution in consciousness for not only the recipient but the practitioner as well.
We constantly seek advice from outside of ourselves, through family, friends, teachers, sometimes even psychics...unless our minds have been thoroughly trained to discover the answers from within our own hearts. The Body of Bliss treatment is a deeply empowering experience in that the wisdom revealed comes from within the client, from their Higher Self, their own deep knowing, not from an outside source. THAT they can count on, THAT is the information they can trust. THAT is God speaking to them from within their own heart and mind.
It's deep soul communication, an opportunity for the individual to recognize, even if it's just a momentary glimpse, the depth and beauty of their own soul, never again to be forgotten or pushed aside. A portal in consciousness...a gateway to the Divine...a 90-minute journey to the center of the Self, disguised as a luxurious spa treatment! A seed is planted within each client, a vibrational shift that will continue to integrate over time, resulting in a world of conscious, caring, God-realized men and women. And that is when we shall truly experience heaven-on-earth.


How the Body of Bliss treatment came to be...
Shirodhara, shiro meaning head and dhara meaning thin stream, is part of Panchakarma, a deeply cleansing and detoxifying treatment that comes to us from the Ayurvedic healing system of India. Shirodhara has been used literally for thousands of years to treat stress-related disorders and ailments of the head and body. Traditionally, a thin stream of warm milk, sesame or coconut oil flows onto the third-eye area of the forehead in a continuous stream for about 10 to 15 minutes.
However, the more I did the shirodhara aspect of the Body of Bliss treatment, the more I felt that I was energetically connecting to the Sacred Anointing, as spoken of in the Bible. The more I practiced this subtle art, the more I discovered it to be an initiatory rite of passage and transformation, encouraging an opening to the deep mysteries of one's own hidden self. A key that unlocks the memories of the soul, it allows a sacred union with the Self. I saw this as a vehicle not only for accessing the mind and healing the deep centers of the brain, but as a key to awakening & unfolding the flowering petals of consciousness.
But shirodhara alone is not enough. The energy work is key. Shirodhara puts the body into such a deep state of relaxation that client and practitioner can connect soul-to-soul. Energetically, the practitioner opens the client's crown chakra, inviting, then anchoring the Higher Self into the physical body.
While deep in my sadhana (spiritual practice) I discovered how to integrate my Greater or Higher Self into my physical body. I saw the "big picture". I realized not only who I am, but with great delight, realized who you are also. I achieved such indescribable states of bliss that all I wanted to do was share this sublime experience with anyone and everyone I could. I prayed for the ability to transmit grace and to awaken people; that my hands become a doorway to the Divine. I wanted people to be able to FEEL God, as I had.
But how could I accomplish this? Through soul-recognition. I saw the word shirodhara and remembered that this was a tool to open the third eye and the crown chakra. I spoke with many Ayurvedic practitioners, many teachers, received many treatments. Each time I received a treatment I was deeply disappointed. But I trusted that this was the way, I never stopped believing in it for a second. I would just have to figure it out for myself. I built my own rigs; I practiced and practiced, absorbing knowledge and techniques from various sources.
During one of my trips to India I received a shaktipat initiation (the transmission of spiritual grace and knowledge) from my teacher. My hands moved effortlessly into spontaneous mudras, none of which I had previous knowledge of, or so I thought. As I was already investigating and assimilating information on shirodhara, I came across the web site for Diamond Way Ayurveda. Their logo was the same mudra I had done spontaneously during my initiation. I took that as a sign. One of those cosmic winks that tells you you're heading in the right direction. I called and asked about the mudra. I was told, "It's the sign of the Medicine Buddha, the future healer, the symbol of teaching & enlightenment."
I flew to California and took the 3-day training in shirodhara with Melanie Sachs, who along with her husband Robert, are two of the kindest, most generous and knowledgeable people I have ever had the pleasure to meet. Melanie had studied extensively with Ayurvedic expert Dr. Vasant Lad, and I have integrated parts of her opening and closing sequence within my treatment.
The shirodhara portion has taken me years to perfect. Lots and lots of research and development. The energy work is the culmination of sacred pilgrimage, countless spiritual initiations, Reiki and Axiatonal Alignment and attunements, and 30 years of meditation and prayer to become a clear channel for Divine grace.



"My dear special Sundari - As beautiful on the inside as she is on the outside...you have a gift that transcends anything that words can describe. I have traveled far and wide receiving spa treatments and none has come close to what you have given me today and last week. In twenty years of working in the salon, Medispa and spa industry I have never experienced what you have shared with me. Body of Bliss is what every person on earth should have the experience of receiving by such a spirit-filled soul. Your love, light and purity could restore and heal all of humanity! May God bless you with the bliss you share so freely."
Lorraine Stringer, CA

"Sundari's Body of Bliss treatment was like nothing I've ever experienced before. To say that I was in an altered state is an understatement. During the session, I had unusual pictures coming constantly into my vision…the only picture I can remember specifically was a snowflake that was made of gems…it was not an ornament…it was a jewel-encrusted snowflake. At one point, I could feel Sundari's hand on my heart and then I felt her take her hand away, and another hand replaced hers…then I heard a voice say, "this is the hand of God", telling me to open my heart and keep it open so my soul partner can come in. Even later in the day, I was still feeling the effects of the treatment. I had closure and completion (within myself) with 2 relationships I've been dealing with for a long time. This was my first Body of Bliss by Sundari, and it definitely won't be my last!"
Andrea Scarla, Kihei, Maui

"Thank you! That was the most amazing journey. I have been on a whirlwind of emotions and anxiety since my wedding on 8/20/05. Your treatment just opened me up. I felt this spirit of energies that just took me away. I felt myself visiting with my sister and soon to be niece, Gracie. It was a spiritual journey of hope,happiness and openness. I was whisked away to many places and let my worries go away. I also have claustrophobia and your treatment took me into a tiny space that widened into an endless room. I have tears in my eyes as I write in your book because I feel such a release of emotions and tension. Your work is an inspiration and I am thrilled you were able to share it with me. God bless you and your energy."
Melissa Hall, Boston, MA

"An amazing, non-visual exerience...a new concept of imaginary colors... not seen of imagined or visualized, but sensed...all nature derived...the swirling oils conjured up browns, sepias, umbers, a touch of orange from bird feathers, deep forest greens, black greens with emerging yellow-greens laced with blacks from avocado and artichoke palettes, rich, subtle almost color-absent. Mushroom shades from bright cream to umber blacks like the center of my mind was it's own continuous painting, always unfolding, emerging, dissolving, evolving, but never seen; just sensed. Each new oil drop felt was sensed in specific color...sprinkles of lilac came through from time to time, almost as a symbol of cleansing and/or transition...owls, moss...only an occasional hint of bold, pure "color". I'm a visual thinker so mental images served me as a way to articulate thoughts, but this was a new discovery, a new layer of imagination. I hope I can put it to good use, whatever that may be. The only downside, how do I get this every day?? Thanks - it was great!"
Steve Wideen, Albuquerque, NM

"Sundari ~ What a great name for you ~ like the sun shining into dark places… healing… opening… looking inside…healing. My journey began with the incredible head massage, then oils rubbing away my "chatter". When finally quiet (the chatter put up a good fight!!) I saw a Hawaiian man – Chief - King actually- his face so clear before me. My chatter briefly came back and he faded away. Soon I found myself hearing him tell me to reclaim myself, reclaim my gifts. Let go of the obstacles I have been clinging to for "security" (old boyfriends, old ways) and be present to my greatness. He told me I have a responsibility to share my gifts and my greatness and I can't do it if I am unhappy ~ stressed ~ playing small. I felt like I was his princess daughter ~ which I have always felt a familiar feeling about ~ and he was my father telling me to be who I was born to be. Then you washed my feet and I felt like you were truly washing the feet of royalty. When you prayed over me and opened up my heart, a warmness overcame me that was divine. I feel very blessed. Thank you for sharing your gift with me and for bringing out mine. I WILL stand up and be responsible for sharing mine with the world. God bless you."
Jan Fairchild 4/7/05

"As I contemplate about" Body of Bliss" I start to tear. You have a loving touch, a good heart, a healing touch, a unique soul. You are truly blessed. Everyone should be given the opportunity to experience this life changing treatment. I am glad I had this awesome experience with you. I have had many spa treatments in my adult life, however there are no words to actually describe the sensation and spiritual love one receives from "Body of Bliss". Please continue your special talent and may your direction in life always be positive. I will spread the word of this loving treatment to the Ihilani Resort in Honolulu where I live. I don't know when our paths will ever meet again however with your name "Sundari" my radar will forever be in tune with your soul. You are one in a billion - love always!!"
Robin B. Deng, DDS, Honolulu, HI

"Thank you! Thank you! Thank you! Thank you for sharing your gift with me. I finally feel the peace and the bliss that I need. You have facilitated a journey into ME and helped me to reconnect with what is real and important. You are an instrument to the spiritual world and that is a rare and special gift. Thank you for helping me to find my center. May God help you to help others find theirs as well, and to always keep yours. God bless you."
Lisa Marie Mallory

"Thank you so much for the amazing "Body of Bliss" It brought me to such a state of inner peace. I had a heavy weight lifted off of me after this experience. I was able to reach my Christianity by seeing visions of Jesus and Mary. I feel so blessed to have been given this gift. You have a true calling in life and it is wonderful that you share yourself with others. Your talent in what you do is incredible. I thank you from the bottom of my heart for helping me to heal my body and soul after my miscarriage. You will be in my thoughts and prayers to continue your work for many years to come! So many people will benefit from you!"
Jennifer Young

"Please continue to grow and spread your love around. Maui and you are one…spiritual and amazing. During my session, I felt a sense of the area, from the ancestors to the calmness. The Hawaiian ancestors crowded the room with you and me, while the chief with a crown of flowers took over your hands. They prepared me for a ceremony in a long, white gown and a wreath of greens for my hair and slowly walked me to the sacred grounds. As we walked through the hedge to the side, it was full of natives to the area, singing and dancing. I was light, calm and felt love. When I walked back to this room, I had a golden light aura. Then "your" hands took over again. My mind was still, colors of red and purple filled my mind. This was one of the greatest experiences of my life. You are truly gifted. Incredible. I can hardly write I am so relaxed and full of love."
Marsha K. Masood

"Thank you, I leave your beautiful service filled with appreciation and gratitude. Partially through the oil portion of the treatment, I was filled with a subtle but steadfast knowing that I had released all of the past and that I would be living in the joyful present of NOW from this point forward. When working on my feet, I felt consuming appreciation for all that is, and when working on my heart and upper chest, I heard and felt the "pop" of my chakras opening. In that moment I was filled with white light. When you worked with my head, a surge of grief and sadness left my body through my crown and was replaced with sweet peace. I felt energy coursing, swirling, buzzing- through, in and around me. All the while, watching the thoughts of my mind slide by completely unaffected and from the glorious viewpoint of somewhere above my body."
Angela Rivers

"Thank you for your spirit and touch, it has moved me deeply. I receive your healing power as I believe God has given you a gift that works through you to Him. It is powerful, yet, so subtle. I am a very busy executive who is an AAA-type personality who feels I have been transformed to a new beginning of mind, body and soul. Best wishes and God bless you."
Brad Kingsley, La Costa, CA

"Words cannot do justice to the way I feel. I have never felt so relaxed, but yet, so alive, awake, refreshed! I feel as though my body and mind have been cleansed from the inside out completely. I've had massages for years, and they've been wonderful, but the gift I've experienced today goes far, far beyond a massage. If this is what meditation is like, sign me up! An angel must have been watching over me and knew I needed your healing. I truly do feel healed and mended. This is an unbelievable gift you have. Thank you so much!"
Kathy Tippings

"It was absolutely amazing. I didn't know what to expect, as far as how I would be affected by it physically and emotionally. I found myself to be light and free in my mind and heart. All my tension drifted away and I realized that I could just focus on myself and not feel guilty about it. Afterward, my usual jaw tension was gone. I haven't felt this comfortable within myself ever. I could see myself coming in for treatment as a seasonal tune up. Sort of a personal and spiritual maintenance that I would love to be a part of my life."
Jan Ventura, Oahu, HI